I was tooling around the San Jose Classic Bike show when I walked by a vendor showing his tires for sale. I haven't even heard of the Heidenau brand but I (like every single other vintage bike guy) need tires for my bikes and seeing how he had a collection of them there I decided I needed to check them out.
Here is my buddy Joe and the only USA distributor for Heidenau, John. John knows his stuff when it comes to tires no doubt. He was pretty excited to show us around the selection of tires telling us about how when he makes a large order of select dual sport tires (that you can't get quality ones anywhere else) they sell out instantly. The tires are made at certain times so he can't exactly order them around the clock. The guys on
ADVrider.com
forums know him well since they are keen to the high quality and durability and all that stuff that makes the tires so good. I was impressed by the construction of these tires as explained by John and they are well made in Germany. I wish I hadn't already installed tires for my friends
XT350 Yamaha
or else I would have surely tried a set from Heidenau.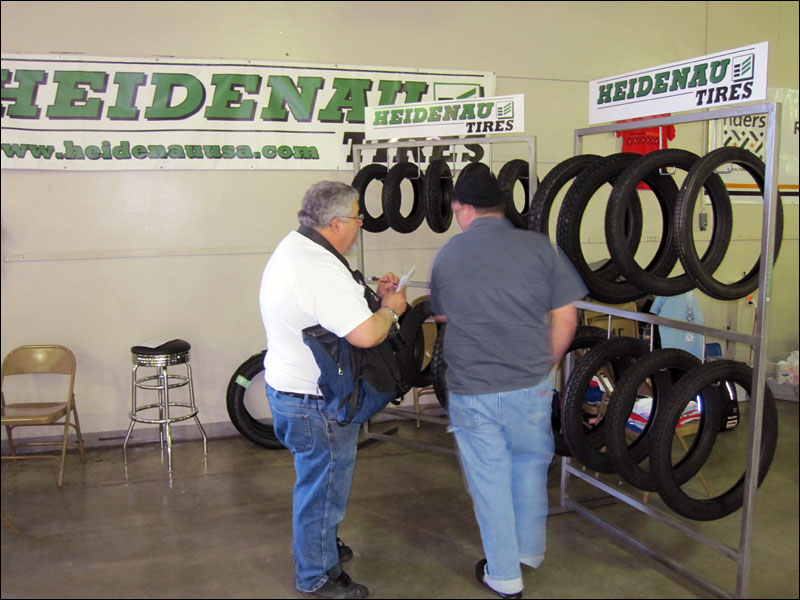 And don't worry. I don't get paid to say anything on my forum here at
Fourwheelforum.com.
These honestly look like great tires and I'll surely be ordering some from them soon. My friend Joe bought a set at the show and I'll be posting more information about them as they are going onto his
Ducati Sebring 250
. I have a feeling we won't be doing any performance testing with that motorcycle though! When I put some on
my Honda CA160
I will surely put them to the test.