The last time I can remember riding this motorcycle was back in 1993 when I was in high school. I rode it a few times and then did a light restoration on it which involved just stripping down the black (which was worn and old looking) and painting it blue and silver just like I had always seen in pictures but never in person. I admit that the blue doesn't match the Honda blue exactly but only a collector would care. Everyone loves the way it looks. The thing that put it in storage was the fact that the starter clutch had broken and there is no way to repair it besides replacing the part. That really wasn't an option back then since parts were so hard to find and there wasn't any information about that stuff on the internet back then. I had a million other things to do and I was working on all sorts of cars and motorcycles so I put the ol Honda CB72 under a cover.
One big mistake I made was taking off the kick starter. The shape of the cb72 kick starter is very strange. To use it you have to flip it out and kick it forward! It's the weirdest thing and a big pain in the ass. The electric start worked fine until the little clutch broke. The kickstarter shaft splines were in bad shape and I didn't want to damage them anymore so I never bothered to put the kicker back on. Now I can't find it. I'm pretty sad but I'm sure it will turn up one day when I move some old boxes around.
Fast forward to the present. I want to ride this thing now. I'm sure glad I removed the fuel from the bike way back then! The tank is in great shape and I just took the fuel bowls off to check them. Well as I removed the bowls the gaskets instantly turned to dust and I had to order some new ones. I just got them in the mail yesterday.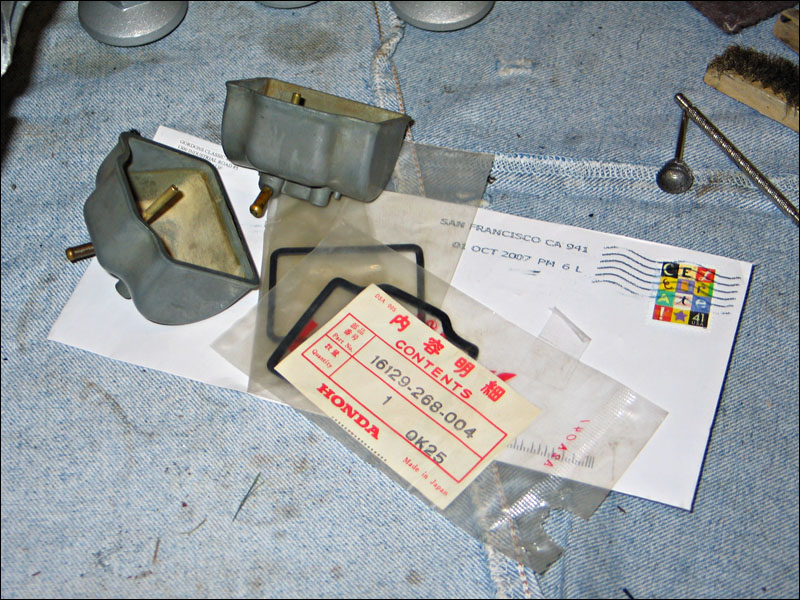 Now I need to make sure the fuel petcock has a good seal and replace the fuel lines as well. I have two good batteries for the Honda CA95 and the 160 so I might be able to use one of those for now just to start it. I know the battery exchange guy in town can order one for the CB and have it here in 2-3 days so I'll probably be talking to him soon. For today I plan on taking care of the fuel delivery system and maybe firing her up.