Honda really did us all a favor by putting HUGE starter motors on these 1960's Honda engines. They have giant magnets, HUGE communicators, easy to replace brushes and two big bearings that take all the load off the armature when it turns over. The problem? The grease used to lubricate the bearings and the reduction gears simply does not last... especially not for a number of decades. There are key pivots surfaces that are starving for lubrication and they are VERY important if you want to use the electric start on your Honda. There is nothing cooler than showing people how easy your old Honda starts with the push of a button. People really get a shock when they see you press the button and the bike starts up and idles without even touching the throttle. :lol: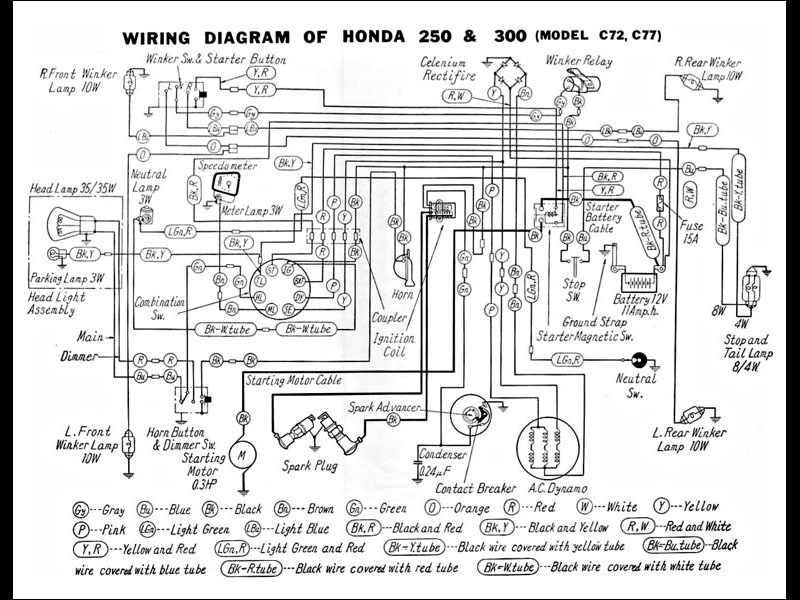 Don't let the cb72 electrical diagram intimidate you. The starting system consists of just a few key components. You have the battery which connects directly to the starter solenoid which connects directly to the starter motor. That's it! Check out my
Starter Solenoid Service thread here
and next go through your starter to make your system failsafe. Who wants to use a kick starter? especially the weird on on this CB72 which gets in your way and kicks forward. I took my kick starter off completely as it gets in the way and others have told me that they did the exact same thing.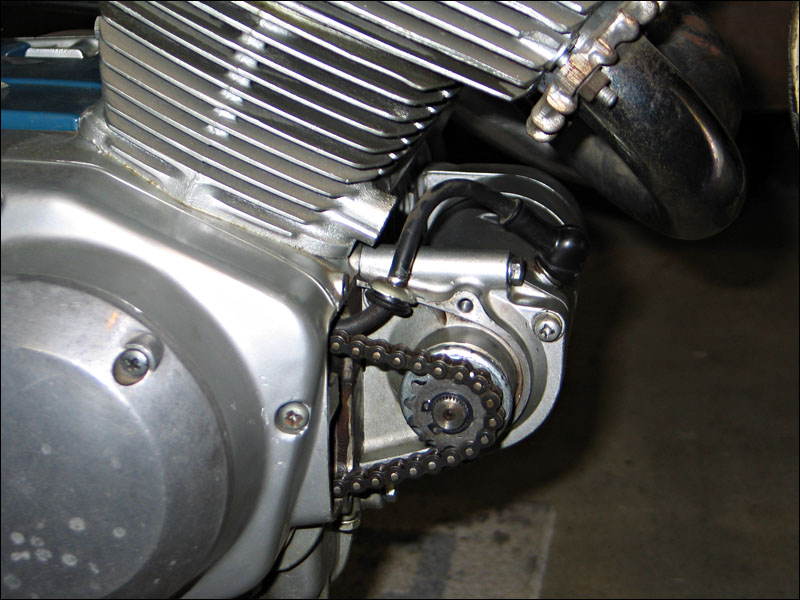 Follow along as I spend some quality time going through my CB72 starter motor from head to toe. It's easy and doesn't take any special tools at all. I highly recommend that you have a workbench vice! They are invaluable. Get a cheapo one or use a friends garage that has one. This is the only large tool that you really need to do this. Force must be applied to remove the bearings from the output shaft and also to hold the body of the starter motor while you remove and re-install the armature inside of it.
Tools I used and recommend you have ready before you start:
A Big vice
9mm wrench for bolts that hold the main motor body together
10mm wrench
Perfect condition Phillips screwdriver
Impact driver w/perfect condition bits for tough end piece screws
Wire brush or 3M abrasive pad to clean electric communicator
Synthetic bearing grease for reduction gear lubrication
Graphite powder for lubricating brass bushings on end of armature
Small straight pry bars or punches to leverage off bearings
A large and smaller size hammer
Circle clip tool to remove chain sprocket
Lots of rags since this work gets pretty dirty
A normal assortment of pliers to work with motor brushes
Punches to hammer off the pressed on bearing cap
Small scraper to remove grease from cavities
A Rubber hammer is great for popping starter housing apart without damage