I've played with a lot of race cars and you learn to love quick connectors or the sure fire compression type line connectors made by Auroquip, Russell etc. They are the stainless lines that have red and blue connectors on the ends. Jegs even makes black ones which are very slick.
Wiggins makes some connectors which are quick connectors and very strong. They make aerospace fittings and are used throughout the world in all sorts of aviation engines.
Adel Wiggins Company
Way nice! I have had a lot of clamps loosen up on me because of all the wheelin. I'm tired of checking them all the time. These are super quick releasing and won't budge. I have forms for ordering em. They make them for oil lines and fuel lines etc. and they ain't no joke. Things like this really make life easier. Using quick connectors on all the lines let's you tank the engine out so fast.
Quote:
AdelWiggins products are found on virtually all aircraft produced in the western world. AdelWiggins designs, manufactures and sells an extensive line of high-quality, custom designed products, primarily aerospace-related fluid line components such as flexible connectors, quick disconnects, clamps, heaters & hoses, and refueling systems.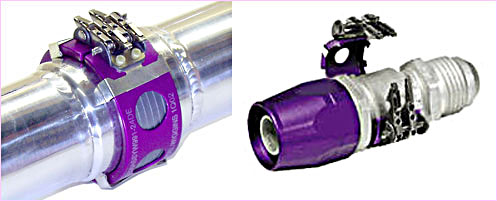 Pretty slick. Expensive maybe, but you don't need many.